discover the world beyond your sight
The Opto Solino™ Imaging Module is a complete computational imaging vision sensor that uses Opto's Solino technology to display object anomalies as an image for further digital or statistical processing. With a 10x12mm field of view, it is perfect for:
Forensic investigations
Quality assurance on stray surfaces
Anomaly detection for 100% control
The display of object anomalies as images enables unprecedented security in detecting surface defects during quality control. Solino enables:
Optimal representation of defects on weakly reflective surfaces (black on black, plastics, etc.)
Stray light insensitive, repeatable display of surface defects that are difficult to display
Depending on the type of defect, the image processing can be adapted and displayed with 100% repeatability
The solino® Imaging Module can be easily integrated and automated in any QA environment
We offer programming support for special tasks around the solino surface analysis technology to optimize the test process.
Ask for a demo, or send us samples!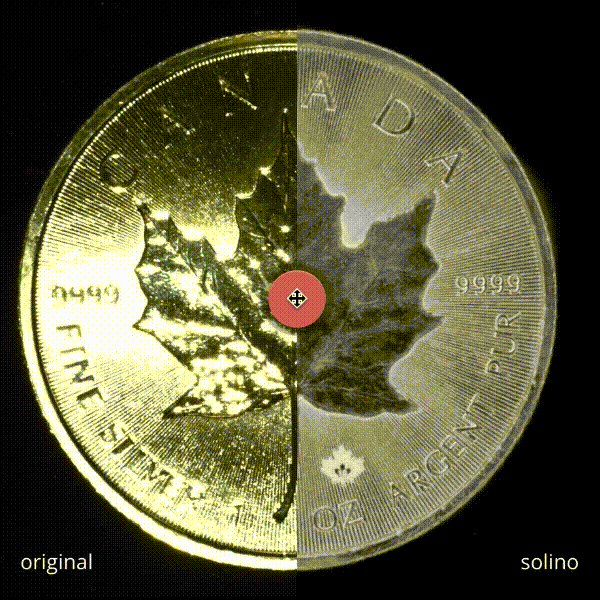 Solino™ visualizes ALL existing anomalies of your product
What does solino™ do? It detects ALL Anomalies as a visual appearance event
Who needs solino™?  Where final QC is critical
Why is solino™ better than other technologies?  It finds Defects beyond the limit of Human Perception
What is my ROI with solino™?  100% less returns 100% QC possible; 100% QC and Process Control possible

The Image acquisition is robust to ambient Light conditions and a variation of Light intensity per Image. Solino™ works with multiple Light sources and positions that are calibrated to each other. The input images will be processed through their Solino® filters to show, analyze or detect Anomalies defined by the customer.

solino™ is able
to disrupt the way of making the QC of products
to digitize the human perception of products
to find Anomalies not even humans find
to find ALL Anomalies on the surface
to increase the Pixel Resolution
to predict Product failure (Predictive Maintenance)
solino™ is not
developed for line scan applications
a direct 3D Measurement tool
a strict Photometric Stereo Imaging Device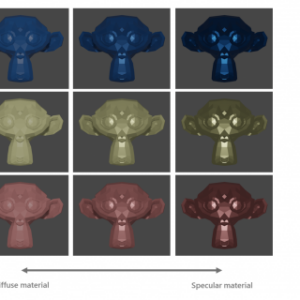 Solino™ is a way of interpreting image data in analyzing its stray response instead of the image itself.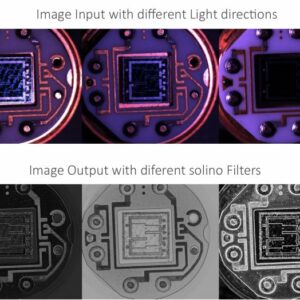 A multi-LED dome illumination enables directional, calibrated light beam angles and thus generates scattered light that is analyzed and processed into Solino® images.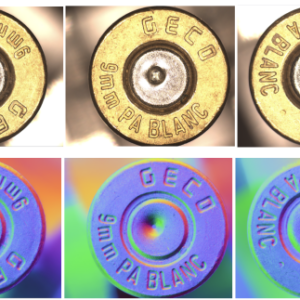 Extraction of features of relevant information in Solino® images for further processing of high-contrast defect information