discover the world beyond your sight
Medical & Life Science Solutions
The transmitted light modules with 5x, 10x and 20x in the profile·M design are ideal for BioMed applications. All ultra-compact modules come with the free OptoViewer and are programmable with many common SW packages. That makes them universal for scientific R&D needs and high throughput screening solutions. For microscopy automation needs, Opto offers its own OEM BioScreen platform for multi-fluorescence imaging, motorized X-Y-Z hardware and autofocus functionality.
Applications
Slide screening of Pathology biopsies
Blood / Urin analysis of smears or inflow
IVF for visualizing Embryos
Low-contrast biomaterial microscopy
Microfluidic, Flow Cytometry Image processing
Automated Multifluorescence Image Analysis
Digital and quantitative image-based PCR
Digital microscopes for Lab on a Chip automation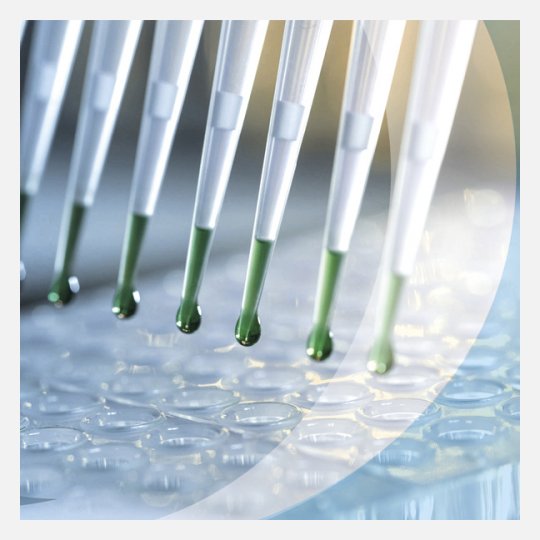 Microscopy and Automation Solutions in Biomedicine
Opto already offers transmitted light microscopes for droplet-based microfluidics, automated multi-fluorescence microscopes for cell analysis, inverted autofocus microscopes for motion analysis of growth processes and high-throughput fluorescence microscopes for DNA and RNA sequencing.
Miniaturized optical imaging modules from Opto can be found inside the machines of world market leaders in a wide variety of high technology applications, including remote automated bacterial fluorescence microscopy, time-lapse high throughput cell processing, high throughput automated blood screening with fluorescence, DNA and RNA sequencing, intraocular lens replacement surgical instrumentation.
Droplet based Microfluidics
with the Opto digital inverse microscope profile M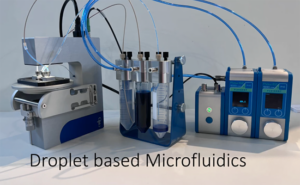 Droplet-based or digital microfluidics is a screening method used in practice for various applications. It involves the generation of serial sequences of droplets, which are regarded as self-contained reaction vessels.
Customer-Task: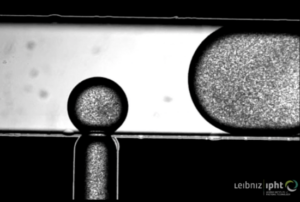 Screening, quality control & assurance
Reaction kinetics
 Rare molecule detection and gene expression detection
Pathogen detection
Solution: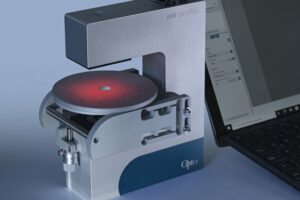 Imaging Module profile M with integrated transmission illumination
Plug and Play monochrome colour version or USB 3.0 / GigE available
Easy to use and free OptoViewer 2.0 software
Plug-Ins available and direct measurement without calibration
Advantages for customer:
Pure all-in-one digital microscope with open software architecture
Nano/pixel Resolution with large FoV, high contrast and colour stability
Repeatability of Image
Ultra-compact design for easy machine integration
Plug & Play AI microscope for urine sediment examination
with CNN-based vision system from Basler and Opto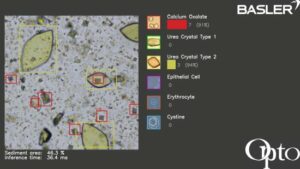 In a urine sediment analysis, laboratory employees examine the solid components of a urine sample under the microscope to diagnose diseases of the kidney or urinary organs. However, manual examinations under a microscope generally risk errors and take up valuable time. Many laboratories, therefore, use automated systems. These differ according to the required performance, functionality, complexity, and design size, which also means they vary in terms of their integrated vision system. Opto's AI digital microscope represented below features a Convolutional Neural Network (CNN)-based embedded vision system from Basler. The cost-effective, high-performance microscope is a significant first step to automating lab analytics and processes.
Solution:
Reliable and inexpensive CNN-based vision system for automated microscopic examination
Integration of high-performance transmitted digital light microscope (white light LED condenser) and powerful 5MP colour camera module with Image Signal Processor for pre-processing steps, and Embedded Vision Processing Board
i.MX 8M Plus System on Chip, the Neural Processing Unit (NPU) from NXP® for CNN's subsequent inference
20x magnification
Camera and processing board integrated inside a full aluminum
 microscope frame for a plug & play package
Controlled by a one-cable USB 3.0 connection
An ultra-compact processing AI microscope sensor implementing high-throughput machinery or a Point of Care analysis device
AI microscope has an intuitive user interface
pre-trained CNN for major markers for classification
On-board software coordinates image acquisition and processing and adjusts the LED
Hardware acceleration, the NPU performs
 typically intensive processing tasks for the CNN
OEM integration, individual training assistance for CNN, and integration in local network architectures provided by Opto

adjustable to existing
 algorithms to automate specific pre-classifications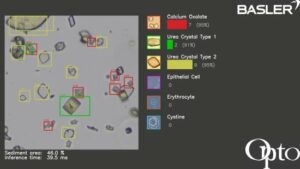 Benefits:
Compressed microscope and vision know-how from Basler and Opto in one plug & play AI microscope
Expertly produced with long-term availability and price/performance optimization
Seamless integration of traditional and CNN- based image processing and analysis
One-stop solution for automation of your individual microscopic process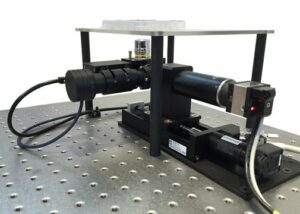 Laboratory workstations for continuous, photo-documented sample tracking across all preparation steps of pathological specimens (tumour tissue, skin, and bone biopsies). 
Oncology
CellScope for the analysis of cells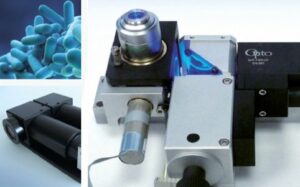 A minimized ultra-compact microscope with a special illumination method for observing living cells in a sterile environment with automated function and image evaluation.
Over three years in development, the Opto DualStation combines all the imaging techniques and magnifications typically used in IVF labs and condenses them into a single, small, affordable instrument that can be seamlessly housed in the new generation of fully enclosed microscope chambers.
Schwind manufactures devices for treating corneal refractive errors using the LASIK procedure (laser in situ keratomileusis). For a new generation of devices, Opto developed a stereo operation microscope that allows the doctor to check the operation visually and simultaneously couples the UV spectrum of the excimer laser used in a controlled manner.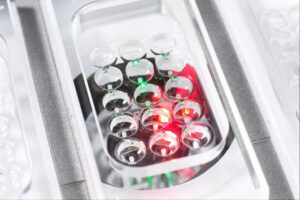 Pharmaceutical screening is an automated method for testing and analyzing biochemical, genetic or pharmacological substances. The method can filter out defined elements from one or more coordinated runs from the corresponding test area. Affordable High Throughput screening.