discover the world beyond your sight
Test | Measurement Solutions
The Opto Imaging Modules are available with integrated, diffuse LED ring light illumination in fixed and segmented versions and a coaxial incident LED. Many magnifications, working distances and optical contrast techniques are available within the different form factors. USB 3.0 versions or GigE versions for machine builders and integrators.
Applications
SMD Inspection
Image-Based Hardness Testing
Crimp Analysis
Quality & Control Needs
Documentation Units
Industry 4.0 Sensor Solutions
Overview & Detail Digital Zoom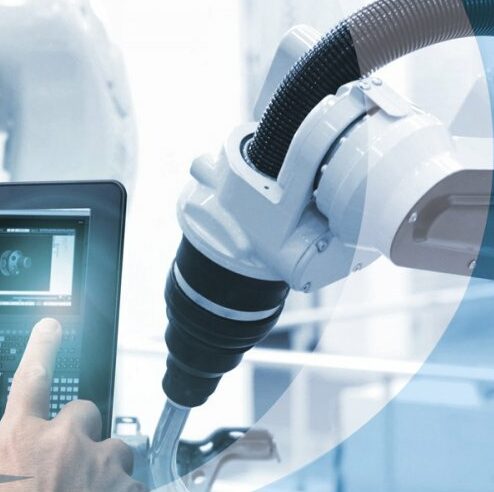 Solutions For Optical Quality Control
Test & Measurement refers to all industrial applications in which microscopic structures have to be displayed and analysed.
Here are some examples where the imaging modules are used:
Semiconductor technology, SMD inspection, solder joint analysis
Automotive, quality control, process control, cylinder inspection
Metallography (hardness testing, crimp analysis, weld seam control)
Energy, solar wafer inspection
Fabrics, Filter and Sieves Measurement and Classification
Optical measurement of mesh widths with the compact 'Profile Projector'
In contrast to mechanical test methods using test sand or glass balls, optical measurement of the mesh dimensions is a fast and reliable measurement method and ideal for inline control of production results in an industry 4.0 environment.
The evaluation of the mesh size distribution and the traceability to corresponding standards such as ASTM E 11 can be realized with the new Imaging Module Profile from Opto.
The Profile Projector comes factory pre-calibrated. Opto offers calibration standards with and without DKD certificate to regularly recalibrate the optics.
The Profile Projector works with a telecentric brightfield illumination and a coordinated telecentric lens in transmitted light.

Metallurgical Sample Analysis with Opto's Machine Vision Microscopes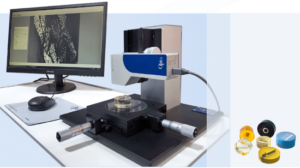 Customer-Task
Grain & Structure Analysis of Metals
Predictive Maintenance of production processes
Quality control of mechanical parts
Damage evaluation of metal malfunction
Solution
Imaging Module compact M (MVM) with integrated ring- and coaxial illumination
Small footprint with portable stand and case
Easy to use and free OptoViewer 2.0 software
Direct measurement without calibration
Advantages for the customer
Pure all-in-one digital microscope
Micrometre/pixel Resolution with large field of view
High Contrast and Colour stability
Repeatability of Image
Wafer and PCB Inspection with Imaging Modules
Tasks
Optical defect analysis, quality control & documentation of ICs, FPGAs, BGAs

One-sided, two-sided or multilayer PCB inspection

Detection of cracks, short circuits, defective electrical connections or bridges

Optical post-bond/post-reflow inspection with pin counting and component identification

Detection of irregularities in wafer coatings

Analysis of impurities, cracks or identification of particles and scratches
Solution
Compact M or Linea XL in monochrome or colour version
Application-optimized optoelectronics available in USB 3.1 or GigE – Plug & Play
Easy-to-use and free OptoViewer 2.0 software
Various Software Development and toolkits, as well as BV plug-ins for machine integration
Added value
All-in-one digital microscope optimized for mobile use
More compact than conventional microscopes 
Reliable image data with the highest image quality and good colour fidelity
Good price-performance ratio with software support
Wafer screening with a digital microscope compact M
A compact M digital microscope from the Imaging Module family is ideal for analyzing reflective wafer surfaces and displaying the smallest structures. The following features are unique to a single vision sensor:
Integrated coaxial brightfield illumination
Compact and robust design
Quick change between different modules
Apochromatic corrected microscope optics with a long working distance
5MP IMX Sony image sensor
Open software architecture with own Software Development Kit
The Analysis of welding results is a typical challenge of Metallography labs.
The Machine Vision Microscope with Coaxial Light and with Ring Light is perfect for Micro weld inspection.
One Plug and play Digital Microscope. No change of Equipment.
Magnification: 3,75x,
Field of View: 2,2×1,8mmWD 36mm
5MP Sony IMX264 monochrome
– USB 3.1, 0.9 µm/Pixel
With the free OptoViewer, it is also possible to execute pre-calibrated measurements easily
Hardness Testing (Vickers & Brinell)
Micro Hardness Testing needs high-end optical microscopy images.
Opto has been delivering years of Imaging Modules in existing Machinery.
Solino can principally disrupt this business because:
with Solino, we can detect micro indents on a big surface by analyzing the reflections
it is possible to identify the position of a μm size indent on a big area with a standard camera
Solino analyses anomalies and offers reliable info about an indent of the object's surface
this makes the vision set up independent of the object's surface or ambient light conditions