The Opto Portable Microscope is ready to take on the most demanding field microscopy inspections with its ergonomic design, robust build quality, and perfectly optimized optical configuration.
Offering cable-free portability and extended long life, the instrument features the latest ultra high power coaxial LED technology, with options even for advanced illumination techniques such as Kohler contrast enhancement.
Powerful as standard 
The Opto portable scope is the ultimate solution for remote high-resolution microscopy, designed to replicate your lab microscope's raw imaging power, magnification and functionality. As standard, the instrument is configured with a trinocular head fitted with high-quality infinity-corrected objectives, providing 50x, 100x, 200x and 500x optical magnification. Various configurable illumination options range from ultra-bright LED battery power to contrast-enhancing Kohler options.
Key Features
Objective nosepiece with four magnifications
Integrated coaxial illumination
Graticule for measurements
For rolls from a diameter of 60 mm or flat surfaces
Benefit
Highly stable chassis for high magnifications
Easy to carry – Inspection to go
Ideal in-field measurement and inspection solution
Configuration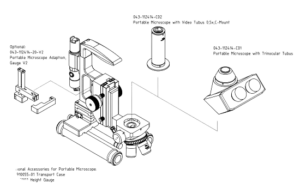 To configure your microscope, you need to know if you want to use it purely in combination with a computer, in which case you need the C-Mount tube or want to see things with your own eye.
Regarding Illumination, you have four main options: Battery operated High Power LED for truly mobile work, USB-operated LED for work with a laptop or PC, fibre optic illumination for cold light sources and mains-operated LED Illumination. Köhler type Illumination improves image quality and offers a homogeneously illuminated, high-contrast crisp image.
The nosepiece comes as standard with objectives allowing an overall magnification of 50x, 100x, 200x and 500x on the eye.
Additionally, there is a transport case and a height gauge available.