Microscopes are a fantastic way to explore parts of the world that the naked eye can't see. They are particularly helpful for students as they serve as a second pair of eyes to gain a whole new perspective on everyday things.
Gone are the days when the best microscopes were limited to laboratories and tertiary institutions with massive budgets, as consumers from all walks of life can now access high-quality microscopes at affordable prices.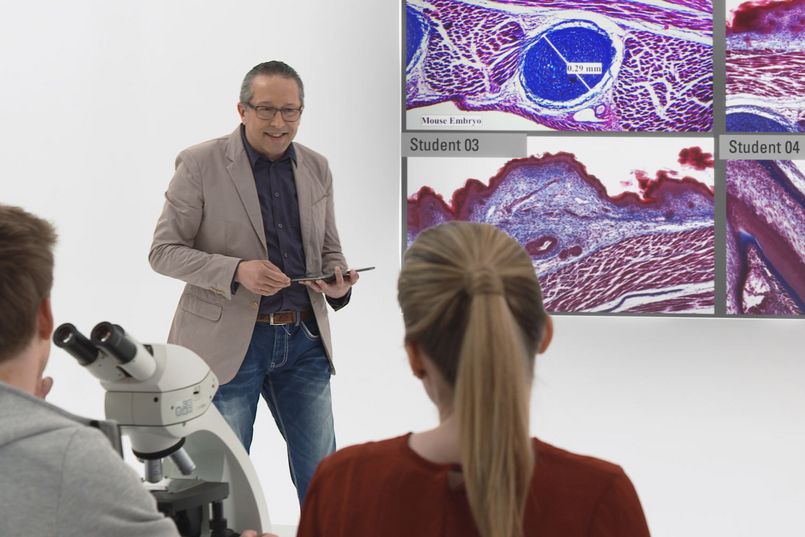 When considering buying a microscope, you must choose one that fits its purpose. While entry-level microscopes with decent composition may be sufficient for secondary students, those at the post-secondary level should focus on microscopes with all-metal construction, a durable enamel coating, and high-quality optics – key features that are required for more advanced lab work.
Before diving into the best microscopes for students, it is important to differentiate between compound and stereo microscopes.
Compound vs Stereo
Compound microscopes are generally ones that students would use for advanced lab work – although there are some exceptions. These microscopes offer students two ways to view objects on slides, either with an eyepiece or an objective. Slides can be viewed on different magnification levels, providing greater detail and information. In addition, compound microscopes offer students higher resolutions so that they can view objects with more clarity.
On the other hand, stereo microscopes offer lower levels of magnification power and are usually used to view larger objects in 3D. Some professional labs use stereo microscopes for activities such as dissection. However, they are more popular with entry-level post-secondary students who are still getting used to exploring objects through a microscope often and may not be ready for the complicated nature and precision of handling slides.
Now that we have discussed microscopes basics, read on as we discover the best microscopes for students.
Compound Microscopes
Leica DM300
The Leica DM300 LED microscope is an excellent unit for students who do regular advanced lab work. It is compact, easy to use, and maintenance-free. It offers students great flexibility as its head can be configured as a monocular, binocular, or trinocular – with a 360-degree rotation.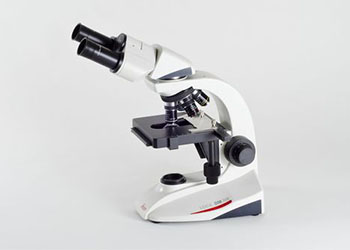 It has a robust construction, LED illumination with a built-in mechanical stage, and offers intuitive control with a coaxial focus mechanism. The professional condenser system is pre-centred and pre-focused for maximum illumination.
Students can zoom up to 40x on monocular mode, while binocular and trinocular modes offer up to 100x magnification. Overall, it offers great viewing capabilities and ease of use for entry-level students.
Leica DM500
The Leica DM500 LED microscope has plug-and-play capabilities and is perfect for entry-to mid-level students. The eyepieces are locked in and non-removable – perfect for students in multi-user environments.
It has a durable construction, and its condenser is fixed – meaning there is no need for students to centre or align it. It offers a trinocular head, a c-mount adapter to mount a camera, and students have the option of an HD digital microscope camera – perfect for those students who are not on a tight budget.
It also provides LED illumination and a built-in vertical handle so students can pick it up from lower or higher positions. Its slide holder is student-friendly – preventing slide chipping with other models.
Students can zoom up to 100x, and the stage has a scratch-resistant surface. Overall, it's a fantastic option for those who want to do advanced lab work conveniently.
Leica DM750
Leica DM500 LED microscope is a laboratory-grade microscope that offers students high levels of reliability with precision and durability. Students can use the head in either binocular or trinocular modes and have the added benefit of rotating the head 360 degrees without having to loosen any of the screws.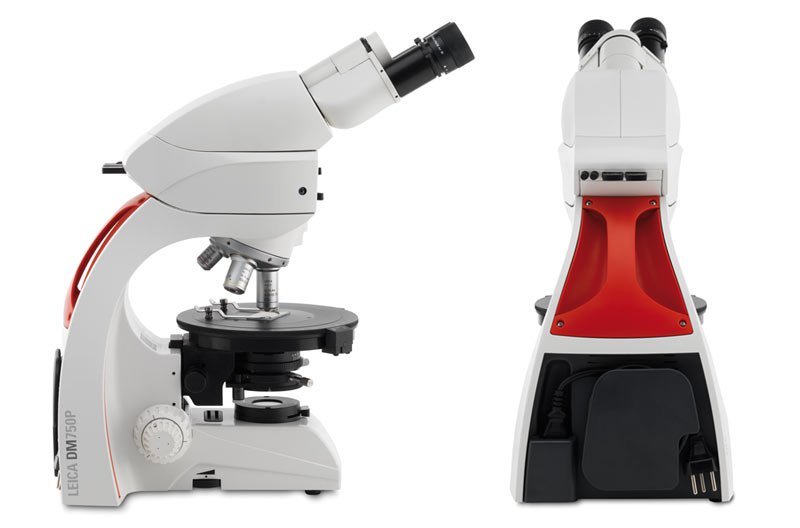 Students will find clinical microscopes easier to share or store with the Leica DM500, and they can add the Leica ICC50W camera when needed – without requiring a trinocular head.
The XY mechanical stage on this microscope is rackless so that no parts will stick out. In addition, the slide holder is designed so students can enjoy one-handed slide loading. The microscope uses LED illumination that includes a nifty auto-off function if students forget to switch it off.
Students can zoom up to 100x, and the information on the objectives is laser etched and engraved, rather than just screen printed – as found on other types of microscopes. Overall, this microscope is a superb option for students, with remarkable quality and perfectly suitable for advanced lab work.
Leica DM1000
The Leica DM1000 LED microscope is designed for high-volume laboratories and is the highest spec unit from our selection of compound microscopes listed here. This model was built with the student's comfort in mind, with easy-to-use and ergonomic features. Students can choose from various heads, including a binocular tube, an ergonomic tilting binocular, or a trinocular.
Students can also enjoy Kohler LED illumination with the Leica DM1000 and can add the Leica ICC50W camera anytime without having to fit a trinocular head. This unit is available with a pre-configured option or can be customised according to the student's preferences.
Its objectives are available on Hi Plans or N Plans, including a condenser 1.25 N.A with a condenser lens. The Leica DM1000 includes coarse and fine focus knobs, making it easier for students to focus on their objects. In addition, the eyepiece is designed for maximum comfort, ensuring that students have as little distraction as possible.
Students can zoom up to 100x on the Hi and N Plans, and the DM1000 comes configured with a binocular viewing head with 10x/22mm FOV eyepieces. Overall, this unit is – by far – the most impressive compound microscopes on our list and will suit those students who want the highest quality and are not limited to a budget.
Stereo Microscopes
Leica EZ4 / EZ4W
For those students who may need to observe samples and infer results without much complication, the Leica EZ4 / EZ4W microscopes are a fantastic option. Students who want a well-rounded, quality stereo microscope at an affordable price will undoubtedly be happy with this unit.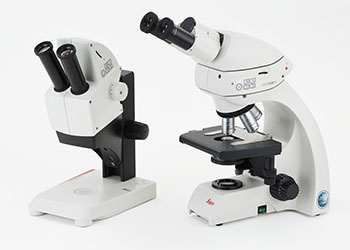 The Leica EZ4 / EZ4W offers students seven-way LED illumination – either incident, oblique or transmitted – that helps to show samples in the right light with high contrast viewing of any sample. Students of chemistry, geology, biology and anatomy often choose this dissecting microscope due to its compact and lightweight design that makes it convenient to carry, move and store.
This microscope offers high-resolution images and a large depth of field 3D view. Students can enjoy an integrated 5MP camera with the ability to live stream images directly to their smartphones or tablets. In addition, students have the option of connecting through the unit's internal WiFi signal or the facility's network.
One notable feature is the adjustable illumination system that promises over 20 years of operation without the need to change bulbs – incredible! This saves on costly bulb replacements and the need to inventory bulbs.
The magnification on this microscope allows students to go as low as 8x or as high as 35x. Overall, it is priced attractively for those students who want to do lower magnification laboratory work.
Leica S7E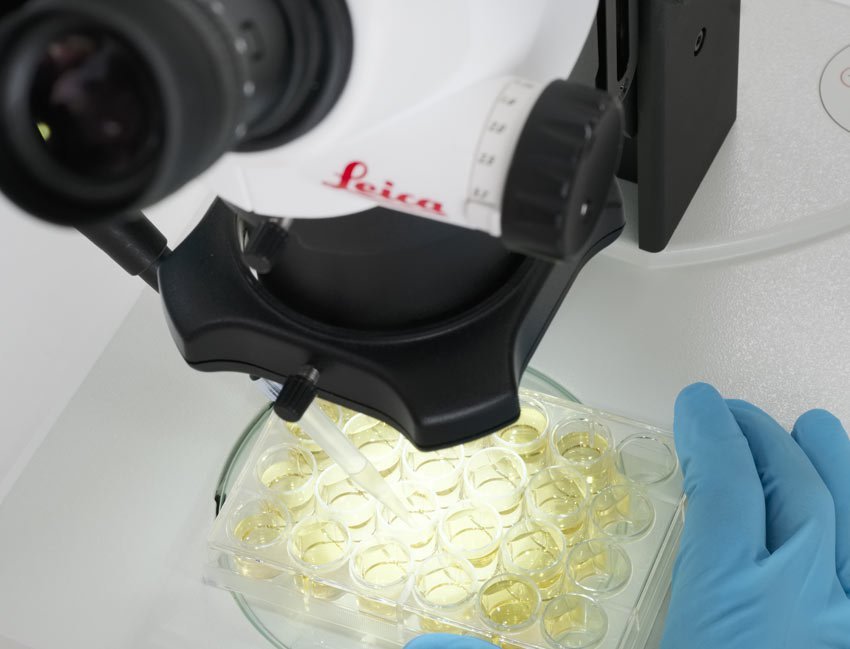 This stereo microscope is ideal for those students who conduct routine inspections in quality control processes. It is very easy to use and has a modular base and stands that offer students great flexibility – perfect for customising when studying specific samples.
It offers students a binocular head and a tilting ergonomic base for 325-degree rotation. Students choose three light sources with the Leica S7E microscope – LED top pinpoint light, overhead fluorescent, and darkfield halogen illumination. 
It has a robust and durable design, and students can enjoy 10x eyepieces with a zoom range of up to 72x magnification – perfect for students who do advanced lab work. Overall, this microscope provides incredible resolution, a fantastic field of view, and a superb depth of focus for students.
Leica S9E
Leica S9E microscopes are specifically designed for research applications where students require efficiency and reliability. This unit features Leica's FusionOptics technology that combines a large depth of field with higher resolutions – making it ideal for students who do advanced lab work.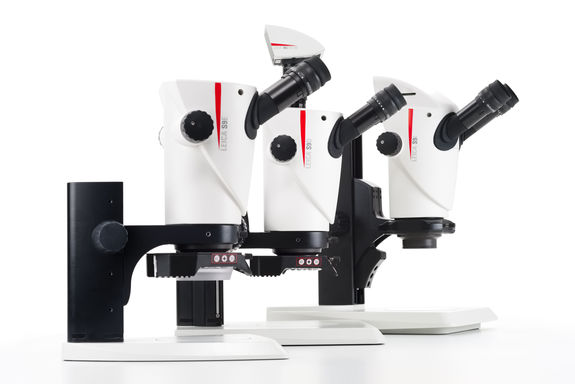 This model has a 122mm working distance and offers students click stops with reproducible zoom settings – ensuring more repeatable accuracy for students. Leica S9E microscopes give students a magnification of up to 55x and a fantastic zoom range of 9:1.
It has a durable construction that offers apochromatic corrected optics that helps to reduce colour fringes. Overall, this unit provides an all-encompassing solution for students who want a quality microscope at an excellent price for advanced lab work.
Final Thoughts
We hope our selection of the best student microscopes has enlightened you on your options and made you more confident in choosing the right microscope for your needs. While each of the microscopes listed above has loads of great features, we've just touched on some of the most important ones.
Make sure to head off to our website to learn more about other great microscopes for students and get in touch with our team to answer all your questions.