more than 80 years of heating engineering
Rotary furnaces are ideal for physicochemical processing. The TSO rotary tube furnace is perfect for use in the laboratory to process batches of materials. Originally developed in partnership with the Imperial College of Science & Technology in London, the furnace allows samples to be heated and mixed simultaneously in a controlled atmosphere. TSR rotary tube furnace heats and mixes simultaneously in a controlled atmosphere while the material continuously passes through the work tube. The TSR features three heating zones, adjustable rotation speed, an adjustable tilt, and a work tube that can easily be removed and replaced. Ceramic or metal work tubes are available, and the TSR rotary tube furnace can be supplied with feeders and inert gas packages.
ROTARY TUBE FURNACES - CUSTOM DESIGNS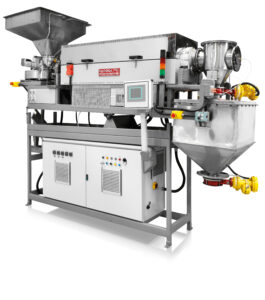 In addition to the standard range of rotary furnaces, Carbolite Gero has extensive experience in custom-made engineering products on laboratory, pilot plant and industrial scales. A few of many examples are listed below. Feel free to contact us to discuss the requirements for your application!
Rotary Tube Furnaces - FAQ
The Carbolite Gero rotary furnace range has numerous applications in research areas such as material science and geology. Specific applications include gaseous reduction of ores and analysis of ores and metallurgical slags, synthesis of catalysts; pigments for paints; calcination of oil slate; doping of ceramics with rare earth metals.

All ovens and furnaces provide excellent temperature uniformity, and the rotary furnace range is no exception. These models' high-quality resistance wire heating elements provide rapid heating and short cooling times.
WHAT MATERIALS CAN BE PROCESSED IN A ROTARY TUBE FURNACE?
A rotary tube furnace is suitable for the heat treatment of granular or particulate materials that continue to flow at high temperatures. Materials that need to be processed in the air or inert atmospheres are suitable. Materials that become sticky at high temperatures are not suitable.
HOW MUCH MATERIAL CAN BE PROCESSED IN A ROTARY TUBE FURNACE?
Rotary tube furnaces can be either a batch processing furnace (TSO) or a continuous processing furnace (TSR). The capacity of a batch is in the range 620 to 1740 ml, whereas the continuous furnace can process material up to the capacity of the feed of collection hopper e.g. 5 litre.
WHAT ATMOSPHERE IS POSSIBLE IN A ROTARY TUBE FURNACE?
The atmospheres possible within the work tube or vessel of both the batch (TSO) and continuous (TSR) rotary tube furnaces are: air, inert gas such as nitrogen or argon, and reactive gas such as hydrogen (with appropriate safety equipment). Steam injection is also possible.
WHAT ARE THE ADVANTAGES OF A ROTARY TUBE FURNACE?
The continuous movement of the sample ensures that the entire surface area is exposed to the atmosphere during processing. This improves gas diffusion while reducing gas consumption and increases heat treatment efficiency compared to a static process. With the TSR rotary tube furnace, the material is continuously passed through a hot furnace that maintains a consistent temperature profile, improving product homogeneity.
HOW LONG DOES IT TAKE FOR MATERIAL TO PASS THROUGH A ROTARY TUBE FURNACE?
The time taken for material to pass through a rotary tube furnace is widely adjustable. In the TSR continuous rotary tube furnace, material flow rate can be controlled by both the rotation speed of the work tube and the angle of work tube inclination. Process time is also reduced because there is no need to wait for the furnace to heat up and cool down, unlike a batch process.
Known for service-excellence, we don't just supply the tools, we assist you in gaining proficiency with our products through our dedicated training program.